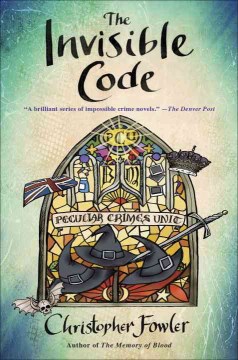 The Invisible Code by Christopher Fowler [M FOWLER]
The Peculiar Crimes Unit is always under threat of being disbanded, but Arthur Bryant and John May keep their group together by solving crimes that Scotland Yard and other legal entities won't touch. In Christopher Fowler's "Invisible code", disapproving security man Oskar Kasavian promises the unit a free pass if they can determine the cause of his wife Sabira's recent anxiety attacks and dangerous behaviors. Witchcraft plays its part; little known facts about London's history add to the mix before the case is closed.
Don't miss any entry in this fun series. The Peculiar Crimes Unit's adventures will always provide you with historic tidbits to make you the hit of any trivia get-together in 2016.